Blast 'Em Bunnies - Facts and screens
Use a turnip mortar or carrot rifle to fend of evil bunnies. Only our friends from Nnooo could think of something like Blast 'Em Bunnies.
Defend your burrow from a horde of evil bunnies before they take you down! Pick them off using your carrot rifle, pelt their furry hides with your watermelon pip machine gun or wreak havoc with your runner bean laser. Want tdestroy as many of their colony as possible? Your turnip mortar will dmaximum splash damage. These crafty cottontails come in all shapes and sizes. Some of them can even fly, you'll need every weapon in your armory tdeal with this barbarous band of bitter bunnies. How they became evil, where they came from and whtaught them tfly remains a mystery. But there's no time to ponder these rabbit riddles, just grab your favorite weapon and... Blast 'Em Bunnies!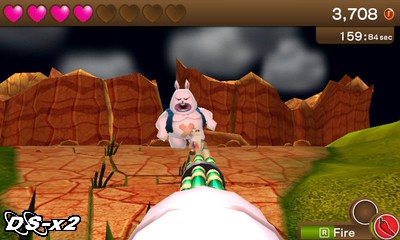 Screenshots of Blast 'Em Bunnies for 3DS eShop
Features
Endless Arcade style First Person Shooter; see how long you can survive
Motion controls (physically/tilt turn taim), users can use the Circle Pad too
Shoot bunnies tdestroy them
Shoot the coins the bunnies release tcollect them
Spend coins on upgrades
4 weapons tpurchase and upgrade

Carrot Rifle
Watermelon Machinegun
Turnip Mortar
Runner Bean Laser

16 bullets tpurchase and equip (4 for each weapon). Some examples are:

Heat seeking Parsnips
Bouncing, splitting and exploding Pumpkin Bombs
Heat seeking Chili Seeds
Exploding Pepper Bombs which release clouds of heat seeking seeds
Turnip Bombs
Carrot bullets
Watermelon Seeds

Other utilities and unlocks can be purchased with coins too
Purchasable DLC featuring new arenas and bunny skins including:

Abandoned Highway Arena
Eastern Valley Arena
Zombie Bunny Skins
Ninja Bunny Skins