Power Rangers Megaforce - First screenshots

We already knew it was coming, but now we've got the first screenshots to show you: Go, go, Power Rangers!
In this new chapter of the popular Power Rangers video game series, fans play as their favorite Megaforce Ranger while the supporting Power Rangers provide valuable advice and encouragement to players as they battle their way through challenge after challenge. The Rangers' dynamic vocal and physical support will prove valuable as challenging situations and conditions arise in an attempt to foil players' advancement in the game. To enhance the players' experience, Power Rangers MEGAFORCE will allow fans to scan official Power Rangers MEGAFORCE Morpher Cards to unlock special power-ups within the game. Players will also be able to utilize the Nintendo 3DS camera to take a picture and watch themselves actively morph into their favorite Megaforce Ranger and fend off enemy encounters with their own hands.
For as long as evil has threatened the Earth, there have been teams of Power Rangers sworn to protect it. The Power Rangers Megaforce are the planet's newest defenders. For the first time, experience the next chapter in the Power Rangers legacy in 3-D! Plus power up your rangers with the all-new card scanning feature! Go, Go Megaforce!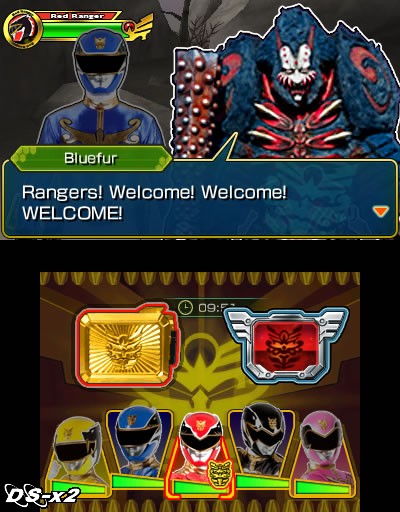 Screenshots of Power Rangers Megaforce for Nintendo 3DS
Features
Unlock Your True Power Ranger Potential by scanning official Power Rangers Power Cards!
Morph Into Your Favorite Megaforce Ranger!
Vocal Support from the Power Rangers will guide you through challenging situations.
Fend off intense enemy encounters with powerful Martial Arts Action!