Spider-Man: Battle for NY
Our friendly neighbourhood spider is once again heading for the Game Boy Advance and Nintendo DS. This time he'll save New York. Update More information just came in.
Activision is planning another game based on their Spider-Man licence (and who can blame them for doing so?), called Spider-Man: Battle for NY. The game, set for the Nintendo DS and Game Boy Advance, will be released during Autumn 2006.
At the moment, no details are know on the titles yet. We did however manage to get hold of a single blurry screenshot of the Game Boy Advance version of the game (below).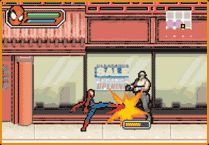 More information on the title may become available in the near future, as Activision is planning to show a playable demo of the title during the Comic-Con international convention.
Update More information just came in. Spider-Man: Battle for New York allows gamers to take on the role of their favorite Super Hero, Spider-Man, and one of his famed nemeses, Green Goblin, in an original storyline which builds upon their legendary comic book rivalry. For the first time in a handheld Spider-Man game, players can personalize their gaming experiences by choosing what abilities and powers to upgrade and when, as they progress through the game. Playing as both good and evil, gamers will experience levels packed with frenzied action, in-depth combat and a host of unique super moves as they embark on the ultimate quest to save New York City from almost certain disaster.