Spectrobes Announced

In Poké.. sorry, Spectrobes, you must train and battle with nearly 500 creatures. They can also evolve to become better monsters. Where have I heard this before?
Buena Vista Games have announced a video game exclusively on the Nintendo DS based on an original property, Spectrobes. Spectrobes is also set to appear on TV and other merchandise.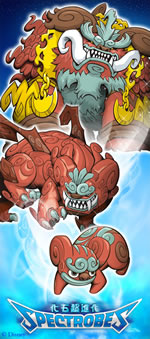 The title is a anime-inspired action/role playing title developed by Jupiter Corporation - who worked on other titles such as
Pokémon Pinball
and
Kingdom Hearts: Chain of Memories
.
Spectrobes introduces two junior Interplanetary Patrol officers named Rallen and Jeena who learn of strange, prehistoric creatures called Spectrobes that possess special powers. These fossilized Spectrobes hold the key to defeating a vicious and merciless force, known only as the Krawl that threatens to destroy the galaxy. The two heroes embark on a mission to save their galaxy - to do so they must excavate, awaken, train and collect all the Spectrobes they can and battle to defeat the Krawl.
Spectrobes is infused with the edgy, highly stylized look and feel of Japanese anime and manga, and uniquely combines original characters, a compelling story and breakthrough gameplay. Spectrobes allows players to excavate, train and battle with nearly 500 unique creatures -- utilizing every interactive feature of the Nintendo DS. Once the creature is excavated using the touch screen portion of the Nintendo DS, the Spectrobe is then awakened and can be utilized in real-time battles with enemies. Players must collect, train and help their Spectrobes evolve in order to progress and succeed in the game. With highly customizable elements and powers, each Spectrobe is unique to individual game players.
Gotta catch 'em all folks.
The game currently does not have a release date, but as always we'll keep you updated.