Metroid Prime Federation Force - First facts

We've already seen a lot of comments on Metroid Prime Federation Force. Some good, some bad. What do you think, is this a Metroid game you're looking forward to?
Join a four-player local or online squad in this co-operative sci-fi shooter set in the Metroid universe. Hop in a specialized battle Mech suit and work with your teammates to take down enemy forces and complete objective- based missions. Then, take a break and play a fun, pick-up game of Blast Ball with fellow troops.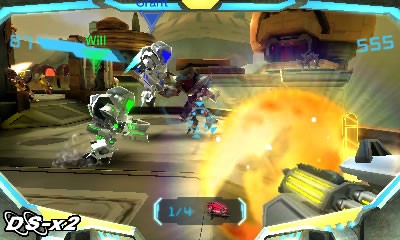 Screenshots of Metroid Prime Federation Force for Nintendo 3DS
Features
Up to 4 players take on a variety of co-op missions in this first-person, sci-fi shooter set in the Metroid universe
Work together as a team to clear out enemy-infested bases and complete objective-based mission
Take on enemies with a blaster and special sub-weapons
Aim using the Nintendo 3DS system's gyroscope
Join a pick-up game of Blast Ball, a 3-on-3 sci-fi sport in the Metroid universe where players shoot the ball into the opponent's goal to score