Asterix - The Mansions of the Gods - First 3DS Screens

It was only a week ago we brought you news that there was to be a new Asterix game for the 3DS. The Mansions of the Gods is based on the movie of the same name and we have a batch of the very first screens. Enjoy.
Play as Asterix, Obelix and Dogmatix in a wild series of adventures inspired by the cult comic book. Roam freely through the Gaulish village, hunt wild boars, save the forest from Roman invaders and don't forget to brew up enough magic potion to ensure victory, by Toutatis!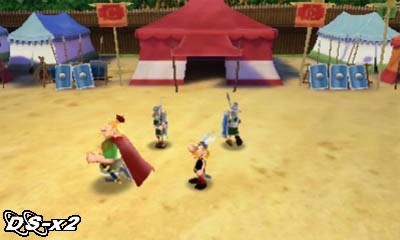 Screenshots of Asterix - The Mansions of the Gods for Nintendo 3DS
Main features:
16 game modes and 2 levels of difficulty, with all the iconic characters of the comic
Visit the entire Gaulish village, perfectly modelized in 3D!