Siesta Fiesta - Facts and screens
Fiesta! Even though Grim Fandango might not be coming to the Nintendo platforms, we still get a little reason to party, with Siesta Fiesta.
Siesta Fiesta is a colorful action game where players take control of the snoozing Siesta as he's taken on a one-of-a-kind tour of Fiestaville: home to the beloved Fiestas. Use Siesta's bed to bounce, boost and rebound across the island's 8 fun-filled regions.
Siesta Fiesta combines various elements of classic arcade gameplay to create a truly unique adventure. Use the ball-like Siesta to smash Piñata Blocks, activate Power-ups, battle bosses and trigger a host of whacky contraptions. With its intuitive gameplay, and focus on varied level design, Siesta Fiesta aims to appeal to both long-time gamers and newcomers alike.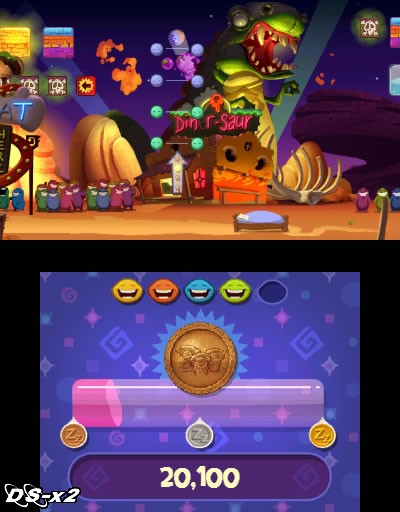 Screenshots of Siesta Fiesta for 3DS eShop
Features
Travel through Fiestaville's 8 fun-filled regions: from the smoky canyons of BBQ Pass to the kooky psychedelic caverns of Neon Cove.
Over 55 varied levels, featuring the loveable Fiestas.
8 Piñata Bosses, each with their own patterns and strategies.
A multitude of interactive objects to keep gameplay fresh: including giant confetti-filled Piñata Blocks; speeding fans, fireball-spawning Flame Blocks, Switches, bouncing Drums and more...
Intuitive, physics-driven gameplay designed for both seasoned gamers and newcomers.
3 game modes: hover Siesta using the Fan bed, fire him using the Party Cannon and push for Gold Medals in the frantic Time Trial stages.
Exciting power-ups: freeze blocks using Ice Time! burn through levels using Flame Time! or trigger Fiesta Time! To juggle multiple Fiestas.