Farming Simulator 14 heading for 3DS as well

If you like the previous farming simulator and just can't get used to Harvest Moon or HomeTown Story, Farming Simulator 14 might be just your thing.
Gamers with a fondness for agriculture and animal husbandry can keep their hands clean as they live the life of a modern farmer in Farming Simulator. The Career mode includes a full economic system and finds players taking on a variety of missions in more than 20 licensed vehicle brands, including Case IH and Lamborghini equipment. There are more than 100 different vehicles and tools available, all designed to help gamers plant, tend to, and harvest their crops or manage their chickens, cows, and sheep, and players can get help from computer-controlled assistants.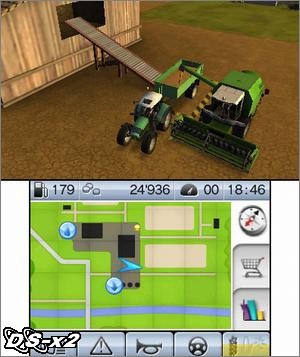 Screenshots of Farming Simulator 14 for Nintendo 3DS
Features
Use more than 100 tools and licensed vehicles to keep crops thriving and animals strong
Run every aspect of a thriving modern farm
Tend to chickens, cows, and sheep