SEGA Classics coming to eShop

At long last SEGA Europe today announced details on the highly anticipated 3D remake of iconic and arcade classics for the Nintendo 3DS which will be available vie the eShop very soon.
Each of these titles will be priced at $5.99/€4.99/£4.49 and available for download in the Nintendo eShop on Nintendo 3DS.
Release dates for the titles are as follows:
· 3D Space Harrier, 3D Super Hang-On - 11/28/2013
· 3D Sonic The Hedgehog, 3D Altered Beast - 12/5/2013
· 3D Ecco the Dolphin, 3D Galaxy Force II - 12/12/2013
· 3D Shinobi III , 3D Streets of Rage - 12/19/2013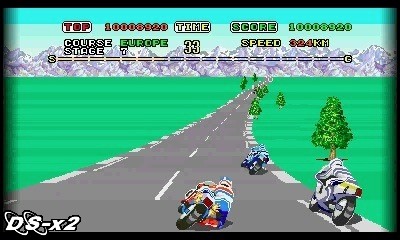 Screenshots of 3D Super Hang-On for 3DS eShop
"These games were completely re-built to offer a robust 3D experience that offers more modern gameplay while still keeping true to the original," commented John Cheng, President and COO, SEGA of America. "We look forward to bringing these classic SEGA titles to Nintendo 3DS for fans - both old and new."