Three-by-Teyon (3) - Clash of Elementalists

We're doing a three-by-Teyon tonight. As the third title we're highlighting tonight, we return to DSiWare (of course also available on Nintendo 3DS) with upcoming fighter Clash of Elementalists.
Battle against the planetary elements in this thrilling action fighting game!
Step into the shoes of one of the four Elementalists each possessing their own superior power - fire, earth, air and water and take to the battlefields in a fight of superiority! Draw on the unique abilities of your chosen character and use their elements to counter attack from afar or in hand-to-hand combat. Destroy the other Elementalists in engaging and explosive rounds of single-play onslaughts or compete with your friends using local wireless connection! Take the battle above the clouds or in the depths of ancient ruins as you fight for your Elementalist to be the only and final victor!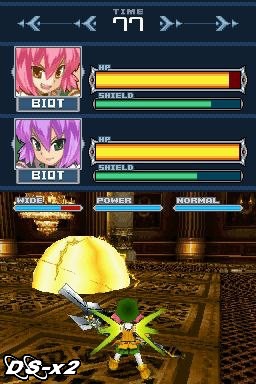 Screenshots of Clash of Elementalists for DSiWare
Features
Play for victory in 4 different modes: Training, Arcade, Free Battle and Versus
Battle against your friends in 2 player mode
Select your character based on their elements; Celcius, Biot, Farhenheit or Mole
Master insane finishing moves for an incredible game-play experience!