Three-by-Teyon (2) - Groove Heaven

We're doing a three-by-Teyon tonight. After eShop puzzler Robot Rescue 3D, we're now on to some boogie through the eShop with Groove Heaven. Again, game facts and screenshots for those willing to know more.
Rhymi has to deliver a love letter to a beautiful angel only she is a little demon and the letter is from the Devil lord himself. Climb with her to the top of the tower connecting two realms armed with your best dancing moves! Time your steps right, keep to the beat to get moving and grooving away from oncoming danger! Dance under leaping frogs and past black crows, as you collect musical notes and red roses for bonuses. In two bubbly and exciting modes challenge your musical senses either dancing your way to the top, or simply testing how fast you can keep up with the beat! Show off your rhythmic skills and tap your way to Heaven!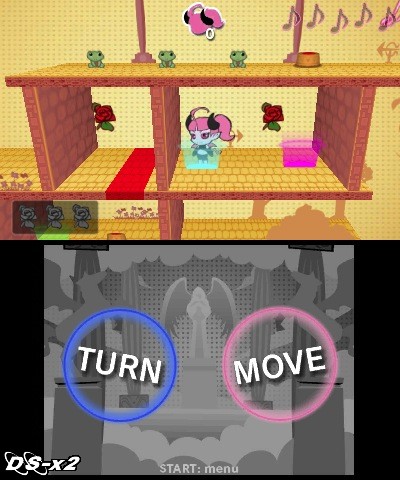 Screenshots of Groove Heaven for 3DS eShop
Features
GET UP AND BOOGIE!
Over 30 levels to complete in Story and Timed mode
MORE BONUSES!
Red roses and pink musical notes to collect
DISCO TIME!
Pick up the beat with the rare Golden Note
UNIQUELY GROOVY PUZZLE!
You'll be tapping your foot and humming the beat in no time!