Adventure Time Getting the Special Edition Treatment

Adventure Time fans rejoice as the eagerly awaited DS and 3DS game is to receive a Special Edition, in the US anyway. Gamestop are currently taking pre-orders for a very nice little package which includes everything from poasters to artbooks.
This Special Edition will include:
Steelbook packaging decorated like the Enchiridion, a book in the Adventure Time series.
A custom stylus modeled after Finn's golden sword
An exclusive art book and activity book
A fold-out poster of the Land of Ooo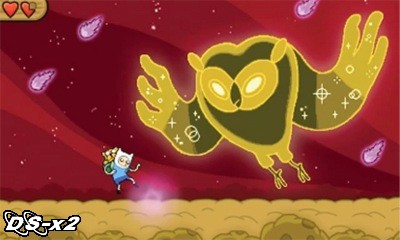 Screenshots of Adventure Time for Nintendo 3DS
In the first licensed Adventure Time video game, Finn and Jake wake up one morning to find their trash stolen by the Ice King. Jake couldn't care less about half-eaten bananas, crumpled up burrito wrappers, and old chicken diapers - but when they find out the Ice King is using their stolen goods to construct a Garbage Princess, the heroes embark on a fantastical adventure to teach him a lesson! Journey through the Land of Ooo in an offbeat adventure and discover perilous dungeons and unimaginable treasures, while playing as Finn and Jake in a unique action-adventure experience.