Harvest Moon: A New Beginning - Facts and Screens

Whether we're looking at Natsume's Project Happiness or not: fact is that we've got a bunch of english screenshots on Harvest Moon: A New Beginning for Nintendo 3DS for you.
Echo Village has seen better days... Just as you've moved in, almost everyone else has moved away to greener pastures. It's your job to bring everybody back by making the town appealing again, and giving Echo Village a new beginning!
Customization is King!
For the first time in series history, you can completely customize your character's appearance! Choose your character's gender, skin color, facial expression, hairstyle, and much, much more! You even go to the tailor and have them make new outfits for you!
Don't like where your crops and barn are on your farm? Easy! Just pick them up and move them! Yes, it's really that easy to customize your farm in Harvest Moon: A New Beginning!
In addition to the ability to customize your character's and farm's appearance, you can also create tons of new additions for your farm, house, and Echo Village! Build park benches and topiary for the local citizens, a pet house for your farm, and exotic wallpaper and furniture for your house! A New Beginning features new animals like llamas and yaks, new crops to harvest, and new characters to meet and woo!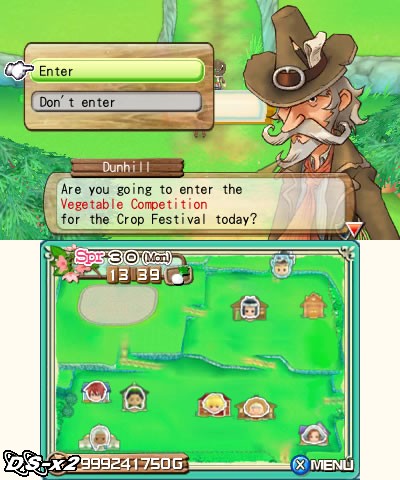 Screenshots of Harvest Moon: A New Beginning for Nintendo 3DS
Features
Create your very own unique playable character!
Completely customize your farm and town!
5 bachelors and 5 bachelorettes to woo!
Craft over 100 objects in your studio!
Packed with festivals!
2 new animals, llamas and yaks!
Made exclusively for the 3DS from the ground up!