Nintendo E3 Conference - Stay Tuned

Stay tuned, and refresh the contents of this article periodically. Starting 18:00 CET, we'll try to get you the news from the floor. And, as usual, afterwards we'll start working on getting you all the E3 assets on various games. The show has ended, head inside for the entire story...
The show has ended. Feel free to discuss the events below or in the shoutbox on the right.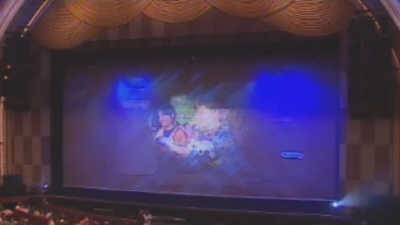 Cammie Dunaway starts the show by telling how great a mother she is. Not because she works at Nintendo, but by trying to show off to her child. Unfortunately, last Winter during her show-off snowboarding, she more or less failed... she fell. Fortunately, Shaun White and the Balance Board come to the rescue as Shaun White's Snowboarding for Wii gives her a chance to practise at home. Cammie steps on the Balance Board and starts demonstrating her snowboard skills...
Mr. Satoru Iwata steps on stage...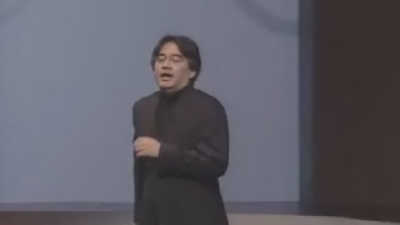 Mr. Iwata speaks about the "new paradigm". Years ago, people did not expect much from Nintendo during E3 conferences. Nowadays, that changed... but more changed. Simplified content and graphics are still viable, according to Iwata. However, "Great numbers of players around the world do demand great graphics, and we consistently challenge ourselves".
Iwata feels that gamers should feel more 'engaged', 'enriched' and 'enthused'. That's what Nintendo strives. Nintendo wants to continu this innovation.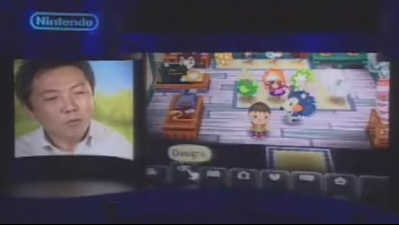 Animal Crossing: City Folks for Wii is shown. The game allows you to write letters to other gamers and send them directly to other message boards. Also included is the WiiSpeak microphone, which allows you to actually communicate. The micrphone is not like a headset, but a 'community microphone' allowing the occupants of the entire room to communicate simultaneously.
Reggie comes up...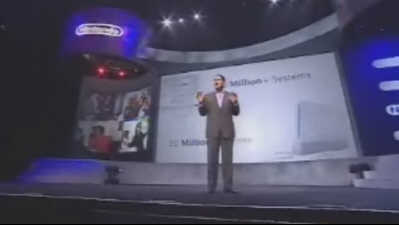 Reggie is still not satisfied: millions of people are still not able to play the games they want. Nintendo wants to fulfil that hunger. Reggie continues speaking about hardware sales. The Nintendo DS is outselling every single next-gen platform. Even though many analysts claimed 2007 would be the DS's peak year, sales are still increasing every year. Also, the Wii is doing well. No other console has sold the amounts of games during the first 19 months of its life. The Wii's gaming library is also growing faster than others'.
The video reel shows Star Wars: Clone Wars, Rayman's Raving Rabbids: TV Party and Call of Duty: World at War for Wii.
Back to Cammie Dunaway...
Cammie explains where all the new DS gamers come from: they're females. The percentage female Nintendo DS owners is rising by the year, equaling out the odds. However, more new gamers have been attracted. Two games are shown in more detail: Guitar Hero: On Tour and Spore Creatures.
New titles coming to the Nintendo DS: the next Pokon Rangers and Grand Theft Auto: Chinatown Wars.
Cammie continues about Nintendo DS and airports. Why shouldn't a Nintendo DS supply information about your location when landing a plane? Telling you the nearest Mexican restaurant for example. This has been tested already, just like the Seattle fans got to use their Nintendo DS in the stadium.
Reggie returns...
Reggie talks about the Wii MotionPlus. Allowing the Wii Remote to be more precise on your movements. Reggie is going to show new games using the Wii MotionPlus addon.
First up: Wii Sports Resort. The game actually follows your movements precisely. Three minigames are shown:
Frisbee
Wave racing
Swordfighting
Wii Music is demonstrated. We can see a drummer using a Wii Remote and Nunchuk, as well as Shigeru Miyamoto playing the saxophone using a single Wii Remote. 50 different instruments will be featured in the game, which do not require any skills at all to play. Wii Music will play the song, all you have to do is show the rhythm by imitating the instrument. Also, the Wii Balance Board can be used to activate the drums.
That's all folks. Reggie finished the conference by stating that Wii can no longer be regarded as "a fad". It's here and here to stay!