aMAZEing Labyrinth On Nintendo DS

We hope you brought your map, as this ever-changing boardgame from Ravensburger is heading for the Nintendo DS. Soon, we'll get to play The aMAZEing Labyrinth.
Who doesn't know the boardgame from the Ravensburger stables? Soon, Nintendo DS owners around the world will get the chance to play it. DS-x2 learned through the German publisher DTP that the game will be released in both Europe and the United States.
The game principle is well-known: Numerous little treasures are hidden in a labyrinth and they need to be found by the players. Maze pathways can be changed by inserting a card on one of the sides of the board. New pathways are opened in consequence, others may get blocked. The player's aim is to find all treasures before the others do.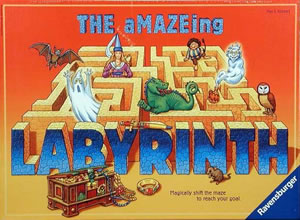 Players step into the role of a young archeologist and begin an adventurous journey through the mysterious labyrinth on their Nintendo DS and will look for historical artifacts in five different locations.
The aMAZEing Labyrinth is playable in a single and in a multiplayer mode. Players may challenge each other in LAN mode or use the HotSeat function of the hardware: In order to hide each player's treasure cards the DS is closed after each turn and handed over to the next player. The next player will open the lid and can play immediately from his point of view. Once the lid has been closed the game changes to the next player's settings and rearranges his view individually.
The game is controlled via the touchscreen, enabling the player to turn and move pathway cards. The upper screen is used to display objects that have to be found in the next step.
It is a mixture of strategy, bluff, and luck that is required to be the first to find all treasure objects and win the game. The aMAZEing Labyrinth is a classic due to its easily understandable game rules that make it the ideal family game and will be a lot of fun to all DS players as well.
Features:
Nintendo DS version of the popular board game classic
Single player and multiplayer mode
Campaign mode in five different locations
Extensive use of the touchscreen