B-17 Fortress In The Sky Competition

Zoo Digital goes bomba! Make that three copies of B-17 Fortress In The Sky for the Nintendo DS up for grabs.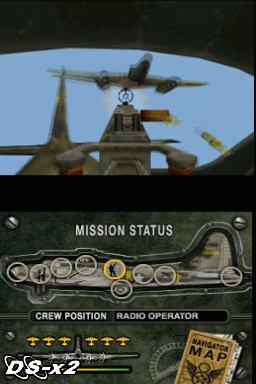 B-17 Fortress in the Sky places you in the heart of the war over Germany and the occupied territories in the autumn of 1944. You will have to man each gunner position, avoid deadly flak encounters, and complete bombing runs if you are to make it back home safely.
Take your place as one of the "Lucky 25" as you blast your way through 25 heart-pounding missions over France, the Netherlands, and deep into the heart of Germany in order to complete your final flight and return home to your family.
To celebrate the release of B-17 Fortress in the Sky we've got together with those nice people at ZOO Digital Publishing to offer you the chance to win a copy of the game for the Nintendo DS.
To be in with a chance of winning just tell us the answer to the following:
What was the name of the 1990 movie which featured the most famous of all the B-17 Bombers?
Send your answer with your name, address, and age to contest@ds-x2.com... and good luck! This time the rule on incomplete entries is also in place: incomplete entries will not participate in the prize drawing.
Closing Date: Sunday 7th October
Competition Rules: - Employees of Ds-x2 and their families are not eligible to enter the competition. - The Competition is open to anyone currently resident on the planet Earth. - Only one entry per person is permitted - Winners will be formally notified within 7 days of the closing date. - The judge's decision is final and no correspondence will be entered into. - DS-x2 will not be liable for any damage or loss of prizes. - Please allow at least 6 weeks for delivery. - We reserve the right to amend these rules at any time. Entry in the competition implies acceptance of these rules.
PLEASE NOTE: Your details will not be kept on a database after the competition ends and will not be passed onto any third parties.