Kirby Squeak Squad (Nintendo DS) - Description
When thieving mice called the Squeaks steal Kirby's snack along with a ton of Dream Land treasures, the pink powerhouse sets out after them, copying new skills as he goes.
Players run, float and fight their way through eight worlds as Kirby, gobbling up enemies as they go. Kirby can inhale enemies and spit them out as stars, but the main game play comes from swallowing foes and copying their abilities, then using the abilities to defeat other foes and advance past obstacles. In each world, players hunt down small treasure chests, each of which holds unlockable bonuses like music tracks, Kirby colors, powered-up abilities or secret stages. They'll also find large chests, which are guarded by the Squeaks. When players find one, they must defeat the Squeak or run for the exit before it catches them.
In this game, Kirby can mix abilities inside his belly, which appears on the touch screen of the DS. When Kirby collects abilities that float in bubbles around the world, they appear in his belly - drag them together using the touch screen to create a different ability. Players also can power up food items by combining them.
Features:
Players can expect all the floating, jumping and battling of a classic Kirby game, but now they can even mix abilities and recovery items using the touch screen. With more than 25 upgradeable abilities, including new ones like Animal and Bubble, Kirby will have the tools he needs to defeat his toughest foes yet.
The abilities themselves now affect the environment as well as foes. Players burn trees and grasses with the Fire Ability or freeze water with the Ice Ability as they hunt down every last treasure chest in eight huge worlds. Tons of unlockables await, from music tracks to Kirby colors to secret stages and abilities, so players must explore every nook and cranny.
This game also features three multiplayer sub-games for up to four players, either via DS Download Play or Multicard LAN play. Players test their reaction speed in Speedy Teatime, bump and battle in Smash Ride and aim for snacks in Treasure Shot.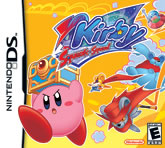 | | |
| --- | --- |
| Platform: | Nintendo DS |
| Genre: | Platformer |
| Developer: | HAL |
| Publisher: | Nintendo |