Altered Beast (Game Boy Advance) - Description
Altered Beast, a classic from Sega, is on the GBA. This GBA-version won?t be a port, but a whole new story... Zeus (the supreme god) asks you to slay a demonic creature. And of course, when Zeus asks you something, you?ll do it.
In Altered Beast, you can shapeshift into 10 different creatures (scorpion, tiger, dragon, etc). Each of these creatures has his/her own special abilities. Your task is to use every single advantage of these creatures to get through the 16 different levels this game will offer (all based on Greek myths).

Altered Beast will also feature a multiplaying option, in which you get the chance to battle your friends.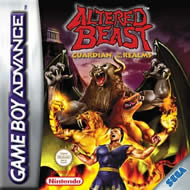 | | |
| --- | --- |
| Platform: | Game Boy Advance |
| Genre: | Action / Fighting |
| Developer: | 3d6 Games |
| Publisher: | THQ |