FIFA Street 2

(Nintendo DS) - Review by

Andrew

4.9
Introduction
It's clear that after some rather weak releases EA are now getting the hang of just how to convert their console FIFAs to the handheld platform and last year's '06 version was hugely enjoyable. IFA Street 2 simplifies all that though. Gone are the lights, the terraces, and most of the fans and nearly all the players. Here we have only three players and a goalkeeper which is clearly going to alter the game dynamics from simply scoring to a little more showmanship. The question is, do fewer players mean reduced gameplay or have EA managed to capture the raw excitement of 'the beautiful game' for the DS? Read on and see...
Gameplay
As we've just pointed out, because of the reduced size of the game there is far less emphasis on actually scoring (although it's still important). Points can be gained by performing tricks as well as the overall style in which you deal with the football. Outsmarting your opponent whist also performing the type of ball maneuvers you'll only see in practice or when watching by certain South-American teams will not only rack up your score but also slowly fill your 'Gamebreaker' meter. This turns your shot into a kind of 'power' ball and, in all the games we played, using this unique feature generally resulted in a goal. There are however a variety of modes available and while we've outlined the main gameplay above you can also enter career modes both 'In The Streets' and 'Around The World'. There's also a multiplayer mode but to be honest the main game is so flawed you are unlikely to find many friends with a copy.
Controls
The control system is both simple and responsive. The basic d-pad and 'A' and 'B' buttons are all about navigating the menu systems and basic movement but it's mastering the touch screen which will really prove worthwhile.
Graphics
FIFA Street 2 is surprisingly good looking on the DS system with both environments and animation very pleasing to the eye. Obviously it looks a lot like last years FIFA on the DS but that's because the same team is behind this very game. One thing which is exciting (as other reviewers have noted) is that if visuals like this can be produced now the future for the DS looks good…
Sound
While the soundtrack doesn't even attempt to match the on-screen action you are getting a generous amount of licensed hip-hop tracks, no doubt added to compete with the more grown up console versions. However this doesn't answer the question of why they are here in the first place though. I can't think of a musical style less suited to the game. Sound effects appear to be almost non-existent although they might be there but who could hear them over that heavy Bass.
Dual screen
As we've seen before the developers have seen fit to make the touch-screen the analogue stick but, due to the absence of this hardware feature, various options here revolve around trick-shots which, as we've mentioned, are essential to beating your opponent. While this has flaws you can get reasonably proficient at some of the simpler combos which, because of the games AI limitations, can win you the game on more than a few occasions.
Final comments
What FIFA Street 2 should have been is an introduction to just what makes football so exciting in the first place: the fact that it can be played absolutely anywhere with the gameplay adapted depending on how many players are available and the area you have to play in. Unfortunately there's just too much wrong with this title to recommend it to soccer fans even though visually, at least, it's incredibly impressive. The worst of these flaws has to be the opponent and ball AI which never quite work as you'd expect them to, making the whole experience much more complicated than it should be. In addition there's an incredibly boring career mode with the actual games themselves being far less exciting than they should be. If you can see past all this then there is a fair amount of gaming to be had but our advice would be to stick with the superior '06 edition or hang on for the German World Cup tie-in which should be with us in a matter of weeks.
Pro: Nice Graphics and Animation, Loads of Gameplay.
Con: Terrible AI and Ball Physics, Appalling Touch Screen Use.
Final score: 4.9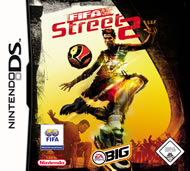 | | |
| --- | --- |
| Platform: | Nintendo DS |
| Genre: | Sports |
| Developer: | Exient |
| Publisher: | Electronic Arts |