Wario: Master of Disguise (Nintendo DS) - Description
Over the 10 episodes of "his" new TV show, Wario travels the globe in search of treasure to steal. Along the way, he discovers that there's a far greater prize to be had: an ancient artifact that grants wishes. Now if he can only find it before his rival, the master thief whose show (and powers of disguise) he's stolen.
Using the Thief Wario disguise, players run, high-jump and tackle their way through each episode. They'll need to switch to other disguises, frequently one after the other, to fight and puzzle through rooms full of obstacles and enemies. Players use buttons to run and jump while using the stylus to affect Wario and his environment, and they can watch the top screen map to keep their bearings in the levels.
At the start of the game, players will have only one disguise (Thief Wario) and will discover more as they proceed through the game. Players can return to previous episodes with the power to use all currently held disguises, making it possible to explore more areas and gather even more hidden treasures. Each episode ends in a boss fight that challenges players to use a variety of disguises to defeat it.
Features:
Draw Wario's eight disguises: By sketching a symbol on Wario, the player puts Wario in outfits that give him powers, such as Thief Wario's tackles and Cosmic Wario's laser blasts. The player also uses the stylus to wield the powers.
Explore environments: Wario travels the globe in 10 missions that span nine exotic locations. The player must attack many enemies found in each location and also use Wario's disguises to get past puzzling obstacles.
Play minigames to unlock chests: To pick the lock of each chest, the player must play one of eight stylus-driven minigames that grow more difficult as the game progresses.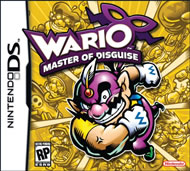 | | |
| --- | --- |
| Platform: | Nintendo DS |
| Genre: | Platformer |
| Developer: | Suzak |
| Publisher: | Nintendo |