A Boy And His Blob (Nintendo DS) - Description
zA Boy and his Blob is the continuation of the story which began years ago on the Nintendo Entertainment System (NES). In this version for the Nintendo DS, your blob friend still loves jellybeans and now they will transform him into a huge array of different items like a ladder, blowtorch or even a bomb. The 3D rendered, side-scrolling action takes place across 5 different environments and two planets as you have to defeat hordes of thugs and evil blobs to save the world.
The Boy from the original Blob Adventure is now 16 years old, into pop music and still into jellybeans. He still recalls the day six years ago that Blobert burst onto the scene and thrust him into a great adventure. But nobody ever believed his stories of defeating the Evil Emperor and saving Blobolonia, so he has moved on with his life. His plan to forget about the past are put on hold when one day, a spaceship crash lands and Blobert emerges, having returned to Earth to warn everyone that the Evil Emperor of Blobolonia has been in exile on Earth, of all places, building strength. He plans to enslave the population for some evil purpose and only the boy and Blobert can stop him.
Features:
Feed Blobert over 15 different colored jellybeans and have him transform into different devices and enhancements like a ladder, trampoline, bomb, blowtorch and even a suit of armor for the boy.
More than 15 different levels to tackle, packed with puzzles to solve and enemies to knock senseless
Nintendo DS touch screen features to include jelly bean management and overhead map
Customize your blob between levels at the candy shop to control you inventory of jellybeans and decide what beans you'll need for Blobert in the next level.
Practice within the tutorial mode by making your blob jump through hoops and negotiate various obstacles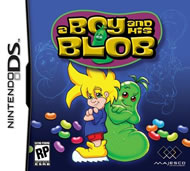 | | |
| --- | --- |
| Platform: | Nintendo DS |
| Genre: | Action |
| Developer: | Skyworks Technologies |
| Publisher: | Majesco |