Rebelstar Tactical Command (Game Boy Advance) - Description
The year is 2117. The evil Arelian Empire has been in control of planet Earth for 70 years. Initially, the Arelians brought peace and prosperity to a world ravaged by war, disease and ecological devastation. Later, they controlled Earth?s inhabitants through fear, using their henchmen, the Zorn, to abduct people when they turn 30. Now, a band of rebels rises up to fight against the Arelians. A new recruit, Jorel, quickly advances through the ranks and becomes their leader. He organizes the rebel forces and builds a powerful global army. Soon, he?ll challenge the Arelian Empire for control of planet Earth.
Features:
Four Play Modes: Campaign, Skirmish, Multiplayer Hotseat (1 for Game Boy Advance) and Multiplayer Link Mode.
Turn-Based Strategy with a Twist: Destructible maps and gas canisters, use the environment to your advantage with true line of site (in 8 directions)
Turn-Based Combat System: Players controls individual soldiers in a turn-based combat system. A replay option lets players review what happened during their opponent?s turn.
RPG Elements: Experience true character interaction and development. Equip characters with different types of weapons and equipment, including grenades, sniper rifles, missile launchers and laser rifles.
Stealth Skills: Players hide and dodge at the end of a turn in preparation for an enemy attack.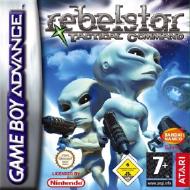 | | |
| --- | --- |
| Platform: | Game Boy Advance |
| Genre: | Action |
| Developer: | Codo Technologies |
| Publisher: | Namco |