Wings (Game Boy Advance) - Description
The classic Amiga game from Cinemaware on the GameBoy Advance with new graphic and feature, including a multiplayer option.
Wings will put the player into the experience of WW1 with amazing 3D dogfight, strafing and bombing missions. Starting his career as a rookie pilot, the player have to fight against the deadly German fighters to became an ace of the sky and join into the honourable elite of the World War I fighter pilots that saved the world.
The game will follow the structure of the original Wings, but with many feature and option added, as the possibility to: start the story mode as Allied pilot or German pilot; full control of the plane in strafing and bombing mission; improved graphics with different and much more detailed plane models, different and new area that the player can fight in (desert, snow, ocean and more), huge final boss; Improved enemy AI for a thrilling experience.
The main added feature remain the multiplayer option that will allow up to 4 player to fight each other in deadly 3D dogfight.
Features:
200 different mission.
Different environment on which the player can fight and flight (desert, snow, ocean, country, city).
Multipath Story Mode, changing on player achievement during his mission.
Choose your nationality at the start of the game, deciding whether to play as either a British or German pilot.
Complex AI routine for more challenging and thrilling action.
Full control of the plane in 3d doghfight, strafing and bombing missions.
New and improved graphic including different plane models, huge final boss and different special effects as trail of smoke, lens flare and big explosion.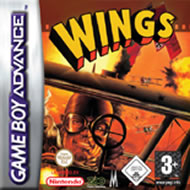 | | |
| --- | --- |
| Platform: | Game Boy Advance |
| Genre: | Flight |
| Developer: | Raylight Studios |
| Publisher: | ZOO Digital |