Inspector Gadget Advance Mission (Game Boy Advance) - Description
Inspector Gadget: Advance Mission brings the zany adventures of the popular 80s cartoon to the Game Boy Advance.
Fans of the series know that Gadget is like a walking, talking Swiss Army Knife. Underneath an unassuming trench coat and hat, the inspector hides an assortment of gizmos that always prove useful when trying to stop Dr. Claw's evil schemes.
Gadget's technology would make an MIT professor drool, but this cybernetic crime-fighter doesn't have much going on upstairs. That's why you can switch to his niece, Penny, and dog, the accurately named Brain, to tackle the tough puzzles in this side-scrolling adventure.
Choosing the right character for each situation is the challenge in this platformer. Gadget is best for battling thugs using his hammer; Penny can swim and use her handy computer to short-circuit evil robots; and Brain can jump high or disguise himself as a penguin to sneak past enemies.
Inspector Gadget: Advance Mission accurately captures the look and feel of the cartoon. Swapping characters makes for interesting challenges. Unusual for a platformer, three players can link up to play cooperatively. Multiplayer action requires GBAs and Game Paks for every player and enough GBA Game Link cables to connect all systems.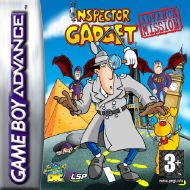 | | |
| --- | --- |
| Platform: | Game Boy Advance |
| Genre: | Platformer |
| Developer: | Magic Pockets |
| Publisher: | Light and Shadow Productions |