Urbz: Sims in the City (Nintendo DS) - Description
The Urbz: Sims in the City will benefit from the unique Nintendo DS capabilities by offering players a wireless multi-player mode, touch-screen input a multitude of in-game features that are not available in any other version of the game. Exclusive features for the Nintendo DS version include 24 objects, a unique touch-screen menu system, 5 minigames, 7 characters and 8 pet species that players can create with the special in-game 'gene manipulator'.
These aren't your typical Sims. These are the Urbz - and they have a completely new look, attitude and outlook on life. Sims are living in the city and it's all about building, and improving, their reputation. For the first time, players will not only be able to create their own Sim, but in addition will also have the opportunity to create their own pet. Daddy Bigbucks is trying to take over the city of Miniopolis and keep Splicer Island a secret. It is up to you to uncover the truth by training your pet, increasing your reputation and keeping your crew on Splicer Island happy.
Sims who live in the City are known as Urbz, and they have a bold new look and attitude. Go to work and be challenged by bosses at locations like the Chop Shop, Piercing Parlor, or Bootleg Fireworks, Inc. Success at work brings promotions, access to new power socials and gear to influence your new lifestyle. Flaunt your attitude by styling your Urbz using the detailed new character engine; then cross the velvet ropes of an uptown night club or explore the subway to earn new skills and items for your high-rise crib. It's up to you whether your Urbz become big-time players on the street or are lost in the crowd. It's all about reputation as The Urbz are living the dream in a City that never sleeps.
The Nintendo DS version also has a brand new city adventure (just like the GBA counterpart): Welcome to Miniopolis, a bustling city poised on the brink of ruin. Daddy BigBucks has a devious plot to take over the city. To thwart his evil schemes you have to get access throughout the city by building up your reputation to become the biggest "player" in the city.
Features:
Brand new location: In his quest to take control of Miniopolis, Daddy Bigbucks is hiding a secret location, Splicer Island. By completing your exclusive Nintendo DS missions and mini-games, it is left up to you to uncover the truth and keep the crew at Splicer Island happy.
Wireless multiplayer mini-games and TouchScreen menus: Wireless support for up to four players. With the TouchScreen menu, you will be able to create your Urbz and your pets using your hand or stylus. The TouchScreen will also be an exclusive PDA giving you access to all menus, NPCs and mini-games with the touch of your finger.
Exclusive Create-a-Pet Feature: For the first time in the Sims franchise, create your own pet to help you accomplish certain missions. Pet species include a veloci-rooster, jackalope, unicorn, Simosarus Rex, Dodo and much more!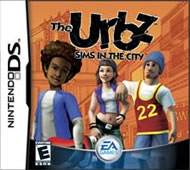 | | |
| --- | --- |
| Platform: | Nintendo DS |
| Genre: | Simulation |
| Developer: | Griptonite |
| Publisher: | Electronic Arts |