Heavy Fire: Black Arms 3D (3DS eShop) - Description
Deep within the overgrown jungles of South America, a group of highly trained US marines head out for their latest secret mission; to take down the largest international arms trafficking cartel known as Fuerza de Voluntad. Your soldier, Will is one of the experienced marines ready to charge through the treacherous jungle environment in this long standing heated war. Immerse yourself in this awesome military 3D shooter as you shoot down enemy aircrafts, smashing through and interacting with the hostile environment. Ride aboard helicopters and tanks aiming to vanquish the entire cartel with the use of powerful upgradable weapons for a total military show down!

Features:
Complete missions through dense South American jungles with destructible objects and environments
Tackle missions with different vehicles including helicopters, tanks and on foot
Ability to advance in military ranks for access to faster and more powerful weaponry
Hardcore first-person shooter with special 3D effects for a surreal experience!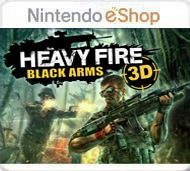 | | |
| --- | --- |
| Platform: | 3DS eShop |
| Genre: | Rails shooter |
| Developer: | Tenyo |
| Publisher: | Tenyo |