Barbie as the Princess and the Pauper (Game Boy Advance) - Description
Get ready for an action-filled adventure with Erika and Princess Annaliese (don't ask, we don't get it either). Help them stop the evil villain, Preminger, from causing mayhem throughout the kingdom, travel throughout the royal kingdom as you search for clues that will lead to Preminger and his secret hideout. Play exciting mini-games, solve puzzles and avoid obstacles in each location with the help of Serafina and Wolfie, the royal cats. Only you can help Erika and Anneliese outsmart the villain and banish him from the kingdom forever.
Features:
Play as Erika, Princess Anneliese and even their cats for the ultimate challenge.
Jump, climb and tunnel your way through 5 amazing locations - Royal Orchards, Evergreen Forest, Crystal Mines, Secret Hideout and the Village.
Play your way through more than 20 exciting levels and special challenges. You can sing, use a special shield or even use the cats to climb and dig.
Solve puzzles and collect clues to catch the villain and save the kingdom. Find the golden apples on the orchard, catch rare butterflies in the forest and much more.
2 player fun! Play mini-games alone or with a friend.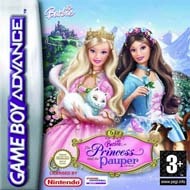 | | |
| --- | --- |
| Platform: | Game Boy Advance |
| Genre: | Platformer / Puzzle |
| Developer: | Wayforward Technologies |
| Publisher: | Vivendi Universal |