Rudolph the Red-Nosed Reindeer (Nintendo DS) - Description
For over 40 years, Rudolph The Red-Nosed Reindeer has delighted and captured the hearts of children everywhere. Now for the first time ever, this timeless holiday classic has come to the Nintendo DS.
Rudolph the Red-Nosed Reindeer provides a fun and interactive way of presenting this timeless classic story known by both children and their parents across the globe. Each interactive story can be read aloud by the parent or child. In addition, every scene of each story is presented as a fun and colorful illustration with many animated elements and interactive areas that will play enjoyable sounds and animations when touched.
Join in all the Reindeer Games! Join Rudolph and friends and race in Blitzen's Blitz, build toys in Santa's Workshop, Stay on top in the Iceberg Hop, Defang the Bumble, Escape the Island of Misfit Toys, and Light the Way for Santa's Sleigh!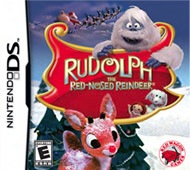 | | |
| --- | --- |
| Platform: | Nintendo DS |
| Genre: | Party Games |
| Developer: | Glyphic Entertainment |
| Publisher: | Red Wagon Games |