Ben 10: Omniverse (Wii U) - Description
The series will introduce fans to an entirely different Ben 10 experience through an all-new character design that pays homage to Ben's past and a fresh batch of aliens to battle. Ben 10: Omniverse will also mark the debut of Ben's new sidekick Rook, a skilled but inexperienced Plumber graduate.
In Ben: 10 Omniverse, players will be immersed in exciting action-brawler gameplay featuring the new art style inspired from the show. Gamers will have the power to switch forms and battle as one of 13 playable alien heroes, including never-before-seen aliens like Bloxx and Gravattack, as they work with either Ben or Rook to defeat the evil plans of a fierce villain, intent on destroying the world.
Ben 10: Omniverse gives fans the option to play single-player or two-player co-op mode (for all platforms except the Nintendo DS and Nintendo 3DS), where one player controls Ben and his alien forms and the other can play as Rook with his Proto-Tool, a high-tech multifunction weapon designed to battle evil.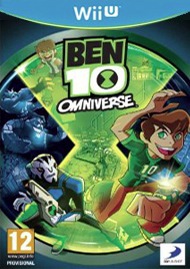 | | |
| --- | --- |
| Platform: | Wii U |
| Genre: | Adventure / Platformer |
| Developer: | Monkey Bar Games |
| Publisher: | D3 Publisher / Namco Bandai Games |