Adventure Time: Hey Ice King! Why'd you steal our garbage?! (Nintendo 3DS) - Description
Adventure Time: Hey Ice King! Why'd you steal our garbage?! is the first video game based on the radical, Emmy nominated Cartoon Network show about two close friends - Jake, a wise old dog with a big kind heart, and Finn, a silly kid who wants more than anything else to become a great hero. Players will explore the Land of Ooo and set out on heroic quests, as their favorite characters Finn and Jake, in a unique action adventure experience. Adventure Time show creator Pendleton Ward is also heavily involved with the game creation, including the design of a brand new storyline, concept, and quests.
Finn and Jake wake up one morning to find their trash stolen by the Ice King! Jake couldn't care less about half-eaten bananas, crumpled up math notes, and old chicken diapers - but when the Ice King uses these stolen goods to construct a Garbage Princess, our heroes embark on a fantastical adventure and teach him a lesson! Journey through the Land of Ooo in an offbeat adventure and discover perilous dungeons, unimaginable treasures, the true meaning of friendship, and never-ending fun!
Features
An original storyline and concept written by series creator Pendleton Ward brings the adventure and fun of the series to gamers for the first time!
Classic Action Adventure gameplay with top and side views for overworld exploration and dungeon combat.
Journey through the Land of Ooo, conquer dungeons, collect awesome treasure, and complete crazy quests!
Appearances from popular characters like Princess Bubblegum, the Ice King, Lady Rainicorn, Tree Trunks, Lumpy Space Princess, Marceline and more will help - or distract - you during your adventure.
Do battle as Finn and kick butt with an array of punch attacks, kicks, and awesome sword strikes!
Use Jake's magical stretchy powers to form bridges, change into a boat, and become tiny or huge!
Find rare battle abilities to have Finn and Jake perform team moves like the Fist Smash, the Downward Sword-Thrust or the Twirling Death Blossom!
Explore multiple lands from the show like the Grasslands, Candy Kingdom, Red Rock Pass and Ice Kingdom.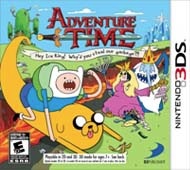 | | |
| --- | --- |
| Platform: | Nintendo 3DS |
| Genre: | Adventure |
| Developer: | Wayforward Technologies |
| Publisher: | D3 Publisher |