Spider-Man: Edge Of Time (Wii) - Description
Playing as the two extremely different personas of Peter Parker and Miguel O'Hara, both heroic web-slingers must urgently work together to correct a timestream gone awry, save each other, and prevent the death of the Amazing Spider-Man. With the story's two timelines evolving in parallel, each Super Hero must navigate through "cause-and-effect" gameplay moments, utilizing Spider-Man: Edge of Time's picture-in-picture display where the actions of one Spider-Man can result in immediate, and sometimes unexpected, effects on the other Spider-Man and his surroundings. Players will battle a variety of fan-favorite and all-new villains, including Anti-Venom and Black Cat 2099, using expanded combat abilities specific to each timeline from Spider-Man 2099's close-quarters brute force, futuristic enhancements and gravity-defying acrobatics, to the Amazing Spider-Man's evasive techniques, upgraded web abilities and ranged tactics, as they race against time to preserve the balance of both worlds.
The game includes an all-star voice cast, beginning with legendary film star Val Kilmer as Walker Sloan; Smallville and V mainstay Laura Vandervoort as Mary Jane; Battlestar Galactica's Katee Sackhoff as Black Cat; "The Spectacular Spider-Man's" Josh Keaton as the Amazing Spider-Man; and Christopher Daniel Barnes, who voiced the iconic Marvel web-slinger in the 1994 "Spider-Man" series, as the voice of Spider-Man 2099.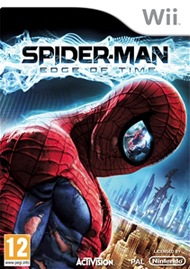 | | |
| --- | --- |
| Platform: | Wii |
| Genre: | Action |
| Developer: | |
| Publisher: | Activision |