ABBA You Can Dance (Wii) - Description
ABBA created music that spanned generations and has inspired millions to sing and dance. ABBA You Can Dance features 26 ABBA songs, including all of the group's biggest hits, such as "Dancing Queen," "Mamma Mia," "Take a Chance on Me" and "Waterloo." The game's professionally choreographed routines and unique environments were inspired by the group's music videos and live performances.
With ABBA You Can Dance, Ubisoft is making it possible for more people to join in on the fun of a dancing game. Up to four players can dance while two additional players can sing along to the lyrics on screen. A mini-musical mode lets players act out the key roles in a love story based on some of the group's classic songs. ABBA You Can Dance also includes original video clips and displays anecdotes about the group that even die-hard fans will find entertaining and informative.
Features:
The Timeless Music of ABBA Enjoy all the hits 25 in all from ABBA's rich catalog of classic songs, now digitally remastered for Wii and your home entertainment system.
You Can Dance Designed for the "Dancing Queen" or "Fernando" of the group, you can dance for fun or set a new top score to challenge yourself and others. Play any way you want with up to four friends.
Mini-Musical Perform a story through the music of ABBA! Experience the magic as you play a role in a mini-musical arrangement of ABBA's songs.
Sing Along Form a musical ensemble with up to two additional friends on vocals. Anyone can easily join in on the fun and follow along with the on-screen lyrics.
Original ABBA Content Enjoy authentic ABBA content, including their music videos, live concert footage, and classic photos!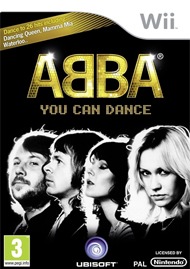 | | |
| --- | --- |
| Platform: | Wii |
| Genre: | Rhythm |
| Developer: | Ubisoft Paris |
| Publisher: | Ubisoft |