Country Dance 2 (Wii) - Description
Country Dance 2 features over 30 of today's hottest country tracks from chart-topping artists like George Strait, Blake Shelton, Carrie Underwood, Miranda Lambert, Easton Corbin, Billy Currington, Eric Church, Little Big Town, Montgomery Gentry, and many, many more. Building upon the simple gameplay loved by fans of Country Dance, Country Dance 2 amplifies the fun with an all new sing-a-long feature, duet dancing, a new calorie-counting exercise mode and more!
Country Dance 2 is easy to jump in and play; just pick up the Wii Remote and replicate the onscreen dance moves to start earning points with hot country routines. Plus, Country Dance 2 now supports up to four players at once for a whole new level of multiplayer fun including the all new duet dancing option that features unique choreography for each player during the same song. Whether you're cutting the rug on your own, line dancing side-by-side with your partner, or taking on friends and family in a dancing duel, Country Dance 2 will transform your living room into an energetic dance floor with mega hits from Amercia's best-selling country artists.
Some of the tracks include:
Ashton Shepard - "Look It Up"
Billy Currington - "People Are Crazy"
Blake Shelton - "Honey Bee"
Carrie Underwood - "All American Girl"
Easton Corbin - "Roll With It"
Eric Church - "Hell On The Heart"
George Strait - "Here for a Good Time"
Gwyneth Paltrow - "Shake That Thing"
Hayley McLean - "Good Time Bone"
Josh Thompson - "Won't Be Lonely Long"
Kellie Pickler - "Tough"
Little Big Town - "Little White Church"
Miranda Lambert - "Gun Powder and Lead"
Montgomery Gentry - "What Do Ya Think About That"
Rodney Atkins - "Take a Back Road"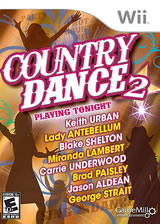 | | |
| --- | --- |
| Platform: | Wii |
| Genre: | Rhythm |
| Developer: | High Voltage Software |
| Publisher: | GameMill Entertainment |