Tekken Tag Tournament 2 (Wii U) - Description
The Tekken series smashes its way to the Wii U with the largest roster of characters and modes to ever hit a Nintendo console. Based on the Tekken Tag Tournament 2 arcade engine, Tekken Tag Tournament 2 for Wii U features stunning graphics, an unparalleled fighting system, online multiplayer and robust customization options. Tekken Tag Tournament 2 for Wii U will also feature exciting exclusive content for the Wii U console giving the title its own unique flair that will appeal to both hardcore and casual fans of the fighting game genre.
Features:
Nintendo Character Collaborations: Every character within the huge roster is able to equip themselves with classic outfits from Nintendo's history.
Outfit's Announced So Far:Zelda, Zelda's Link, Bowser, Luigi and of course Mario ... many more to be announced!
Mushroom Battle: In classic Mario style, the mushroom battle has been developed in partnership with Nintendo. On obtaining a mushroom, a player's character with increase in size and be in a 'powered-up' state. There are 5 different styles of mushrooms, all with different effects and 6 stages to play this mode within.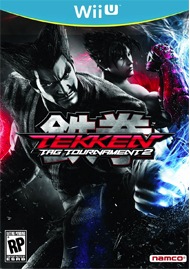 | | |
| --- | --- |
| Platform: | Wii U |
| Genre: | Fighting |
| Developer: | |
| Publisher: | NamcoBandai |