LEGO Harry Potter: Years 5-7 (Nintendo 3DS) - Description
Based on the last three Harry Potter books and final four films, LEGO Harry Potter: Years 5-7 takes players through Harry Potter's heroic adventures in the Muggle and wizarding worlds. From Privet Drive in Little Whinging to Diagon Alley, Hogsmeade and Hogwarts - plus new locations including Grimmauld Place, the Ministry of Magic, and Godric's Hollow - players will encounter new faces, new challenges and new magic, preparing them for the ultimate face-off against Lord Voldemort.
LEGO Harry Potter: Years 5-7 builds upon the magical gameplay, lessons and potion-making skills learned in LEGO Harry Potter: Years 1-4 to equip gamers with the tools necessary to challenge a host of new foes and some familiar ones (including He Who Must Not Be Named). The upcoming title is action-packed from start to finish, including loads of new lessons, spells, and bonus content for hours of family friendly gaming.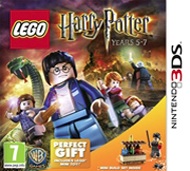 | | |
| --- | --- |
| Platform: | Nintendo 3DS |
| Genre: | Adventure |
| Developer: | TT Games |
| Publisher: | Warner Bros. Interactive Entertainment |