Cave Story 3D (Nintendo 3DS) - Description
Cave Story 3D is a side scrolling action adventure game inspired by the fanfavorite 2D original. Now in a full 3D world, Cave Story takes the proven 2D action, exploration into stereoscopic awesomeness. You wake up in a cave with no idea who you are or where you came from, but you know you must help a cute race of rabbit-like creatures beat the crap out of some crusty old doctor.
As you advance through the game, you'll learn the origin of the Mimiga world and even your own. Like the critically acclaimed Pixel masterpiece, Cave Story 3D is a combination of high-speed shooting action scenes with heavy emphasis on platforming, exploration, light puzzle solving as well as a deep storyline.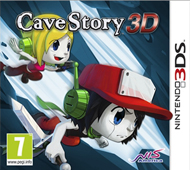 | | |
| --- | --- |
| Platform: | Nintendo 3DS |
| Genre: | Action |
| Developer: | Nicalis, Inc. |
| Publisher: | NIS America |