Thor: God of Thunder (Nintendo 3DS) - Description
Play as Thor, God of Thunder, in an epic-scale action adventure as Thor battles to save his home of Asgard. Wielding the iconic Mjnir, Thor's legendary hammer, fight across multiple Norse worlds, controlling elemental storm powers to overcome hordes of deadly foes with devastating lightning bolts, earthshaking thunder, and mighty blasts of wind that can sweep away throngs of enemies. Battle through mythological realms to overcome colossal enemies lifted from the pages of the comics, including Ulik, Ymir, and Surtur, in a clash that extends to extraordinary planets filled with Frost Giants, Trolls and other mammoth opponents. Use powerful melee combos, lethal hammer throws, godlike elemental powers and a robust grappling system to take down enemies that range from large to gigantic: go toe-to-toe with a 25-foot tall, 12-ton Ice Troll for a truly heart-pumping experience.
Features:
Become the God of Thunder: Step into the role of Thor, the son of Asgard's ruler, Odin, and wield the mighty hammer Mjnir while controlling the devastating powers of the storm.
Epic Enemies: Use multiple strategies including grappling, vaulting, and elemental attacks to take on an array of titanic Norse enemies dozens of feet tall and weighing over 20 tons.
Massive Combat: Use brawn, brains and primal storm powers as you bludgeon trolls, knock down distant opponents with hammer throws, immobilize dangerous foes with lightning, scale massive giants using multiple grappling points to attack weak spots, and blow pesky assailants off ledges with blasts of wind.
Level Up: Choose new abilities, powers, and weapon upgrades as Thor earns Valor runes through battle victories.
Four Unique Worlds: Journey to four different Norse planets, each with different challenges to explore, adventures to undertake and enemies to conquer.
Powerful Original Storyline: Delve deeper into the heroic tales of the Thor universe with an original video game story overseen by Thor comic book author Matt Fraction
Comic Book Icon: Brought to the Marvel Universe by Stan Lee and penciled by noted artist Jack Kirby, Thor has appeared in hundred of comics (solo and with the Avengers) and dozens of TV episodesnow he stars in his first video game and major motion picture.
Star Power: Chris Hemsworth stars as Thor while Tom Hiddleston plays his treacherous brother Loki, ensuring they face off with real emotion in the game while providing character continuity between the video game and film adaptations.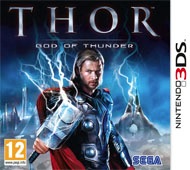 | | |
| --- | --- |
| Platform: | Nintendo 3DS |
| Genre: | Action |
| Developer: | |
| Publisher: | |