Rabbids Travel in Time (Nintendo 3DS) - Description
Rabbids are bwaaack and this time they have an infallible plan to invade the human world: CONQUER HISTORY through the new Nintendo 3DS.
When they stumble into a history museum and discover time travel through their Time Washing Machine, you can bet your booty that human history is about to become a major mess. Get ready to explore and play with time travel in their first platform adventure game, exclusively on 3DS.
Features:
Teleport your Rabbids in time and make a mess out of it. Plunge into the past and revisit the greatest periods of history like the prehistoric age or the ancient Egypt. Help the Rabbids to wreak the past and put history upside down.
Rabbids invade the Nintendo 3DS in their first platform adventure game! Make your way through delirious and colourful 2-D / 3-D stereoscopic worlds, kicking enemies and breaking blocks in 64 levels divided in 4 different time periods.
Customize your bunnies. From Napoleon to the 3 Musketeers, unlock figurines of your favorite characters and pimp your bunnies with 45 historical costumes.
An adventure for everyone! Rabbids get everyone addicted: its 2-D / 3-D side-scrolling representation make it easy to pick up providing instant fun for kids and the usual laugh out loud slapstick humor that adults love has never been so... bwaaah!
More modes for more fun! Three unique game modes, "Story mode", "Against the clock mode", "Mission mode" for more replay value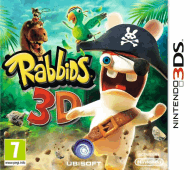 | | |
| --- | --- |
| Platform: | Nintendo 3DS |
| Genre: | Platformer |
| Developer: | Ubisoft |
| Publisher: | Ubisoft |