Racing Gears Advance (Game Boy Advance) - Description
Kick your racing experience into high gear with Racing Gears Advance! Race like a pro as you power-slide through tough turns and take hidden shortcuts to reach the finish line! Equip a Homing Missile and feel the exhilaration as you fire it off, stopping another racer in their tracks! But be sure to bring the right tires, as the Racing Gears League continues whether rain or snow. Team up with your friends for multi-player racing action.
Features:
25 beautifully detailed tracks with multiple weather conditions that affect car handling and visibility.
Choose from 12 unique characters, each with a custom high powered vehicle and custom driving abilities.
Up to four players can compete in a fast paced battle to the finish line.
Use winnings to repair, buy, sell, and customize components of your vehicle.
Unlock eight offensive and defensive weapons to eliminate the competition.
Automatic save feature allows each characters? career to be saved individually.
In game audio tuner allows you to select between over a dozen songs during the race.
Jump off ramps and cliffs to find the many hidden shortcuts.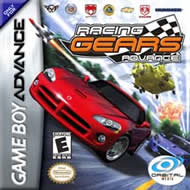 | | |
| --- | --- |
| Platform: | Game Boy Advance |
| Genre: | Racing |
| Developer: | Orbital Media |
| Publisher: | |