GoldenEye 007 (Wii) - Description
Developed exclusively for Wii and based on the GoldeneEye film, GoldenEye 007 gives players the chance to use the lethal, gritty style of Daniel Craig's James Bond to outwit, outmaneuver and overtake an arms syndicate that threatens the world in an innovative, modern take on the legendary GoldenEye movie adventure.
GoldenEye 007 features an unprecedented lineup of four-player split-screen MP options that encourage social gaming, including 40 total characters, 8 classic Bond characters, 5 maps, 3 standard modes and 16 special modifiers that allow gamers to create hundreds of game combinations. GoldenEye 007 also features online multiplayer for up to 8 players designed for seasoned FPS online gamers with unique modes and a robust XP system for unlockables and achievements. GoldenEye 007 also supports the Classic Controller Pro for gamers who want to play with standard FPS controls and the Wii Zapper for "point and shoot" gamers; players will have several control scheme options, allowing them to experience GoldenEye 007 on Wii any way they want.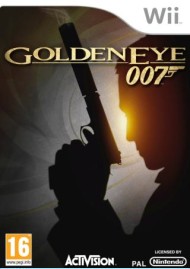 | | |
| --- | --- |
| Platform: | Wii |
| Genre: | FPS |
| Developer: | Eurocom |
| Publisher: | Activision |