Face Kart: Photo Finish (Nintendo 3DS) - Description
Face Kart: Photo Finish literally puts YOU in the driver's seat of an arcade style kart racer; players take photos of their face with their Nintendo 3DS camera and use them as avatars for their custom 3D racers, billboards and power-ups.
The game lets players tilt and turn the Nintendo 3DS to steer their photo customized speedsters through 20 unique race tracks, as they drift around corners, soar over chasms and speed past the competition. Players use the Nintendo 3DS camera to snap their own picture and then map it onto their avatar, the landscape or even a turbo boost so they can pick up their very own power-ups as they race. Each avatar offers up to one hundred choices in hair, clothing and eyewear, plus cars can also be customized by tuning and tweaking to create the ultimate personalized racer.
Features:
Tilt your 3DS like a steering wheel to race your customizable car with ease and precision. The unique tilt-steering control system is made easy for everyone to turn, accelerate, brake and reverse.
Take a photo with the Nintendo 3DS camera and map it to your custom 3D avatar's face. Personalize photos with tons of choices, from hairstyles to clothing and accessories
Select your unique kart and customize it to stand out. Choose from different racing attributes, colors, designs and add-ons including spoilers and wheel arches.
Unlock hidden tracks, race against the clock and prove you're the fastest in multiple game modes including Championship, Quick Race, Battle, and more that deliver the ultimate racing experience across various difficulties.
Race in 20 exotic track locations, skid around corners, soar over chasms, and experience intense speed with physics-based racing dynamics.
Collect fun power-ups including trip missles, shields, and slow motion to use against your competitors to speed ahead.
All performances are recorded using leaderboards so you can see where you rank in each event.
Challenge your friends in Single-Card, Multi-Card, and Online Multiplayer for up to 4 players!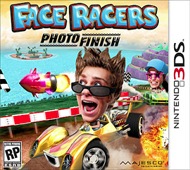 | | |
| --- | --- |
| Platform: | Nintendo 3DS |
| Genre: | Racing |
| Developer: | Renegade Kid |
| Publisher: | Majesco Entertainment |