Bomberman (Nintendo 3DS) - Description
Hudson's flagship multiplayer experience returns with Bomberman 3DS! Known throughout the videogame community as a cornerstone of multiplayer fun, Bomberman's first outing on Nintendo 3DS is his best yet! Bomberman 3DS upgrades the traditional Bomberman experience its world-renowned multiplayer experience in tow and an all new, breathtaking single player adventure, all while taking advantage of the 3DS' unique 3D graphical and online capabilities. It's sweet Bomberman action like you've never seen before!
Bomberman 3DS upholds the legacy of the Bomberman multiplayer experience while utilizing all-new game mechanics for a completely new game. With the all-new Life System, players are able to extend the life of their characters on the battlefield, resulting in epic Bomberman battles or in the case of newbs, allowing a handicap. Local battles can be played with up to 4 players, but connecting online via Nintendo Wi-Fi Connection enables clashes with up to 8 players from around the world! Experience new arenas with breath-taking 3D visuals and watch as your character takes flight out of your 3DS when the bombs drop!
Bomberman's first outing on Nintendo 3DS also marks his return to adventure. Immerse yourself in a 3D city set in Bomberman's world as you take control of Bomberman and embark on a journey to free Central City from the renegade robot corps. Utilize special bombs not found in multiplayer modes to solve puzzles, navigate treacherous pathways, and blast your enemies. Go it alone, or bring a friend on your journey across the land with local co-op gameplay!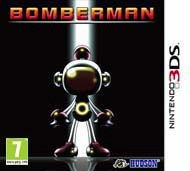 | | |
| --- | --- |
| Platform: | Nintendo 3DS |
| Genre: | Action |
| Developer: | Human Soft |
| Publisher: | Hudson Soft |