Etrian Odyssey IV: Legends of the Titan (Nintendo 3DS) - Description
For centuries, the tree Yggdrasil has been a constant presence in the lives of the people of Tharsis. It looms on the horizon, visible from everywhere in the city. But its roots are in a far-off land where no one has ventured until the Outland Count of Tharsis sponsors an Explorers Guild to reach Yggdrasil and discover its secrets. You are the latest explorer arriving in Tharsis to seek your fame and fortune. Board your skyship and set out into the clouds in search of treasure, glory, and the answer to Tharsis' oldest mystery.
Marking the series' arrival on the Nintendo 3DS, Legends of the Titan introduces a wide range of enhancements and additions, including a greatly improved graphics engine with polygonal enemies and special effects designed to take full advantage of the platform's unique 3D capabilities. As with previous games in the series, players explore beautiful yet menacing realms - each varied in flora and fauna - mapping their journey along the way using the touch screen and their stylus. No two games are ever the same, thanks to a character creation and party customization system that encourages experimentation and rewards creativity and imagination. Moreover, while Legends of the Titan - built with older hardcore gamers in mind -- is still a brutal challenge and not for the faint of heart, a new Casual mode option ensures newcomers to the series and genre need not be intimidated.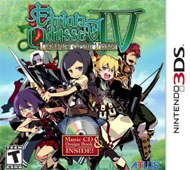 | | |
| --- | --- |
| Platform: | Nintendo 3DS |
| Genre: | RPG |
| Developer: | |
| Publisher: | Atlus |