Animal Crossing - New Leaf (Nintendo 3DS) - Description
Upon your arrival in Animal Crossing: New Leaf, you find yourself in a prestigious position when you're mistaken for the mayor. Thankfully, Isabelle is at hand to show you the ropes of running the town - a task that you can take to heart with as much effort or as little as you like. Decorate the town with public works and participate in their opening ceremonies. Open a club to party with friends into the night, a café to sip coffee in, or the Dream Spa to pay a dream visit to other player's towns from all over the world. As mayor you also have your say in how your town functions by way of ordinances: why not have the shops open later in the evening if you're a night owl? Or have a beautiful town where all the flowers never need watering?
Not only can you decree what is built in your town, you can also show off your style and creativity from what you wear to where you live. Be the most fashionable in town and buy the latest outfits and accessories at the shop, or create your own designs and customise your clothes, then share your favourite designs with friends or collect new ones via QR Codes. You may start off living in a tent but you'll soon be able to unleash your inner architect and expand to a house, and choose from a daily changing selection of house fixtures and fittings to eventually build your dream mansion. You can also become an interior decorator, with a huge array of different furniture and styles of wallpaper to suit your mood as the seasons change; as with your clothing you can apply your own designs to really make your home your own.
Animal Crossing: New Leaf is also about communication - both with the kooky cast of animal characters that can move in and out of your town as well as your normal-life friends far and wide, with many game features geared towards sharing the joy of your town with others. Be house proud with the Happy Home Showcase and share a model of your unique home and décor with other players you encountered via StreetPass - if you fancy some of the furnishings others have on display, you could order them from a handy catalogue. Invite friends locally or online to your town and they can share items, go shopping or play games and bring back souvenirs from on a tropical island resort that is just a jaunty little boat trip away. You can document all your experiences by taking 3D snapshots everywhere you go, with all these memories saved to your SD Card for easy sharing with friends later.
On top of the wealth of new features and animal friends making their debut in the game, many of the pleasurable pastimes from previous entries in the Animal Crossing series - such as gardening, fishing and digging for fossils - as well as animal characters adored by millions of players all over the world, also return on Nintendo 3DS, making a trip to this new town both comfortingly familiar as well as excitingly new for returning fans.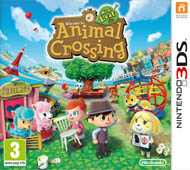 | | |
| --- | --- |
| Platform: | Nintendo 3DS |
| Genre: | Simulation |
| Developer: | Monolith Soft |
| Publisher: | Nintendo |