Kid Icarus: Uprising (Nintendo 3DS)) - Reviews
We have a total of 1 review available.
The Nintendo-x2.com staff wrote 1 review of those.
Our readers have submitted a total of 0 reviews.
If you own this game, we invite you to send us your review of Kid Icarus: Uprising for Nintendo 3DS.
Staff reviews (1)
8.3

Anyone who recalls 2010's E3 will remember the audience's applause was Kid Icarus appeared on the large screens during Nintendo's 3DS press conference. You could be forgiven for assuming that this first party mascot would make an appearance on the…

Read full review »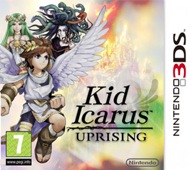 | | |
| --- | --- |
| Platform: | Nintendo 3DS |
| Genre: | Action |
| Developer: | |
| Publisher: | Nintendo |