Professor Layton and the Miracle Mask (Nintendo 3DS) - Description
Solve a mystery with Professor Layton for the first time in 3D as a new storyline unfolds in Professor Layton and the Miracle Mask
Featuring 150 brand new brainteasers and a new set of minigames courtesy of the Professor's Trunk, Professor Layton and the Miracle Mask also boasts 365 additional Daily Puzzles distributed via the Nintendo Network - one puzzle a day for a whole year from the day of the game's launch.
The fifth game in the series sees you pick up with Layton, Luke and Emmy some time after the events of Professor Layton and the Spectre's Call. The intrepid trio is called upon to stop the mysterious Masked Gentleman from terrorising the city of Monte d'Or with magically dark miracles, such as turning citizens to stone. The professor suspects the involvement of the Mask of Chaos, a mask rumoured to bestow great power upon whoever wears it. The revelation takes Layton back to a dark episode of his past, which may hold the solution to the problems of the present. These flashbacks introduce Layton's parents and childhood friend Randall, and allow you to play as the 17 year-old Layton, who pays a high price for discovering his passion for archaeology...
While being presented in the charming hand-drawn style of previous games in the series, Professor Layton and the Miracle Mask on the Nintendo 3DS system uses 3D animations and character models to bring depth to the visuals. The game also features a brand new game mode that sees the young Professor Layton explore ancient ruins and requires you to help him reach the exits of a series of puzzling chambers while avoiding a variety of obstacles and mummy enemies.
There are also three new minigames available from the Professor's Trunk. The Toy Robot challenges you to control a wind-up toy robot that always moves three steps at a time. Navigating a series of contraptions along the way, can you guide it to the goal safely? The second addition is One-Stop Shop where your skills of stocking shelves in an appealing way are put to the test - you'll only succeed if you manage to entice customers to buy everything off the shelves in one go. Finally, in Rabbit Show, you'll help Luke train a circus rabbit that has been deemed unfit to perform by its angry ringmaster. Chat with and train the rabbit to teach it new tricks and perform in plays that will persuade its master to accept it back into the circus.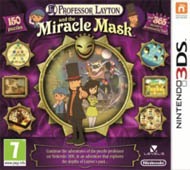 | | |
| --- | --- |
| Platform: | Nintendo 3DS |
| Genre: | Puzzle |
| Developer: | LEVEL-5 |
| Publisher: | Nintendo |