Resident Evil: Revelations (Nintendo 3DS) - Description
Revealing a brand new storyline for the Resident Evil series, Resident Evil: Revelations sees the return to survival horror, offering a tense and intriguing gameplay experience. Built from the ground up to take advantage of the Nintendo 3DS features, Resident Evil: Revelations delivers outstanding visuals that bring the fear to life.
Taking place in 2005, between the events of Resident Evil 4 and Resident Evil 5, the action centers on BSAA (Bioterrorism Security Assessment Alliance) member Jill Valentine and introduces her new partner, Parker Luciani. The story is set principally on board a supposedly abandoned cruise ship in the Mediterranean, where Jill and Parker have been sent to search for Chris Redfield, based on his last known GPS coordinates. Far from being empty, the ship hides danger around every corner as Jill and Parker explore the confined space of the ship and must face a menacing new horror that emerges from the darkness.
Adding a new unique horror setting to the series, Resident Evil: Revelations gives players the chance to venture underwater as they try to escape the terrifying creatures that are roaming the ship. But even the water does not provide safety as the creatures continue to attack from the depths while Jill and Parker make a desperate bid to make it off the ship alive.
Features:
All new Resident Evil - New storyline featuring series favorites Jill Valentine, Chris Redfield and introducing BSAA member Parker Luciani
Classic survival horror gameplay returns - Explore the dark, sinister areas of the cruise ship; there's nowhere to run and nowhere to hide with evil creeping out of the shadows
Flexible Touch Screen Functionality - Touch screen adds depth to puzzle solving and provides easy access to switching weapons on the fly
Use your equipment - Use the Genesis scanning equipment to analyze enemy weaknesses and hidden items that will prove crucial for the player's survival
Brand new threat - A new kind of horror is set to join the legions of Resident Evil; for the first time ever in the series, players will encounter enemies underwater, adding a unique challenge to the mix of gameplay
First person shooter view - Players can choose the shooting style that suits them with the ability to alternate between first and third person views to best pin point enemies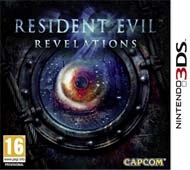 | | |
| --- | --- |
| Platform: | Nintendo 3DS |
| Genre: | Action |
| Developer: | |
| Publisher: | Capcom |