Swords (Wii) - Description
Swords pits players against some of the most formidable adversaries in history using the Wii Remote with Wii MotionPlus as their blade for accurate 1-to-1 motion-based battles.
In Swords, players travel through time and space to challenge eight skilled adversaries-- including the flirtatious yet dangerous beauty Keiko Anamura, the vicious Viking chieftain Armin, the famed Sir Lancelot of the Round Table and many more. Each victory grants players an upgraded, unique sword, providing them the type of blade they need to successfully defeat the next in line of opponents. Once they've cut their way through the list of history's top masters, they must defeat the mysterious final combatant in order to earn the title of Greatest Swordsman of All Time.
Beginning humbly in the dojo, players train and prepare with their sensei before setting off to battle. Players gain the skills and combos necessary during these rigorous training sessions by tackling a series of drills including carving, sparring, blocking and even battling a horde of zombies! In addition, players can train together with a friend or go head to head in the arena to determine the ultimate master of the blade.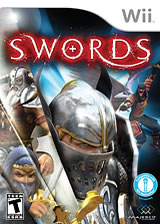 | | |
| --- | --- |
| Platform: | Wii |
| Genre: | Action |
| Developer: | Panic Button |
| Publisher: | Majesco Entertainment |