Dance on Broadway (Wii) - Description
For the first time in a video game, Dance On Broadway brings all the richness and fun of the most beloved Broadway musical direct to fans' living rooms. Broadway fans, along with their friends and families will discover an innovative dance title that gives them the thrill of performing the very best of Broadway musicals, with a unique track list of 20 songs and original choreographies.
"Remember my name... Fame! I'm gonna live forever" (Fame)! Some of the most vibrant musicals ever have seen the light of day in the hallowed theatres of Broadway and today millions of people regularly attend both classic and modern shows in European capital cities. Now, for the first time in history, fans of Fame, Hairspray, and others will be able to enjoy the magic of Broadway in their own living-rooms. Dance On Broadway is a fun game where players can give free rein to their creativity and fulfill their potential as musical stars. For one show, they will be Broadway artists performing on stage complete with the possibility of a standing ovation from the audience.
With Dance On Broadway, up to four players at a time can enjoy the fun of big show moments and share this unique experience with friends and family: together, they will be able to star in some of the most popular musicals. With its easy-to-use controllers, Dance On Broadway is fun for players of all ages. Requiring only one Wii Remote per player, the game makes it possible not only to dance and sing following on-screen choreographed movements and lyrics but also to perform as if you were really in the spotlight! So who will be the most talented star to "Let the sunshine in..." (Hair) on stage?
Especially designed for musical fans, Dance On Broadway's track list includes titles from some of the longest-running Broadway shows. "Cause you can't stop the beat" (Hairspray), the game offers players a wide range of songs to enjoy, including:
All That Jazz
You Can't Stop the Beat
Fame
Time Warp
Let The Sunshine In
My Favorite Things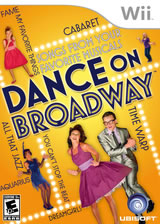 | | |
| --- | --- |
| Platform: | Wii |
| Genre: | Rhythm |
| Developer: | |
| Publisher: | Ubisoft |