101-in-1 Sports Megamix (Nintendo DS) - Description
101-in-1 Sports Megamix for Nintendo DS is a collection of one hundred and one addictive sports mini-games that anyone can enjoy. The game features a wide assortment of all-time favorites like bowling, boxing, volleyball, tennis, basketball and unique sports some may not recognize right away, such as caber tossing, traction kiting, capoeira, street luge, and more! Everyone is sure to find favorites in 101-in-1 Sports Megamix.
Players of all ages will have hours of fun earning points by successfully completing challenges and spending their points to reveal dozens of exciting new sports games, striving to unlock more and more each time. Simple to play and addicting to master, these games will keep players engrossed in scoring goals, earning medals, winning races, and beating high scores. There is practically no end to the fast-paced sports action!
101-in-1 Sports Megamix is the perfect game to take on the road because players can enjoy a game whenever they have a spare moment. In addition, 101-in-1 Sports Megamix takes full advantage of the unique capabilities of Nintendo DS, meaning players can easily manage the dual-screen fun using the intuitive touch controls. On top of all this, some of the games allow players to challenge a friend to multiplayer competition through local wireless play, making 101-in-1 Sports Megamix for Nintendo DS a never-ending supply of fun and excitement!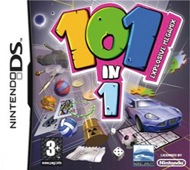 | | |
| --- | --- |
| Platform: | Nintendo DS |
| Genre: | Party Games |
| Developer: | |
| Publisher: | Atlus |